Class Projects
Sarah Kintner, BioBagg-The Paper or Plastic Alternative, 4/28/2012
1. Statement of the Problem
Globally plastic bags, packaging and containers provide consumers with a method for carrying food and goods. Unfortunately more than 90% this mass is discarded and becomes an enormous burden in landfills, waterways, and the oceans of the world.
The Environmental Protection Agency United States 2010 solid waste numbers in Figure 6 (1) details for the "Containers & Packaging" category at 30.3% for Municipal Solid Waste weighing 75.75 million tons. This yearly weight is equivalent to 19 million cars (2 tons) placed end to end the cars (15 ft long) wrapping around the world 9.5 times. This yearly plastic waste ends up in landfills or accumulates in the oceans.
| | |
| --- | --- |
| | (1) Figure 6. Environmental Protection Agency, (EPA), Municipal Solid Waste Generation, Recycling, and Disposal in the United States: Facts and Figures for 2010, EPA-530-F-11-005, December 2011, www.epa.gov/wastes. |
Marine debris has become a large environmental problem and one of the largest contaminants are plastic and paper bags, caps and lids, and food wrappers and containers. In Table 4 (2) below from the United Nations Environment Programme publication Marine Litter: A Global Challenge, the bag and container portion adds up to 27.4% of marine debris.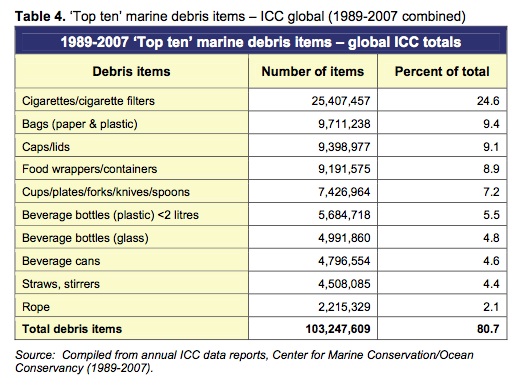 (2) United Nations Environment Programme, UNEP, 2009.
Marine Litter: A Global Challenge. Nairobi: UNEP. 196 pp.
One Potential Biobag Model - Re-Cycle Tasks Model for Production and Disbursement Through Homeless Community
Tasks One: Tasks One: Manufacture an eco-friendly biopolymer and natural fiber based compostable bag (biobag) replacement for the existing plastic point of sale bags sold as an option at grocery stores and shops. Homeless people distribute the bags to participating stores and vendors.
Tasks Two: Put a barcode on the bag coded for a retail sale price of $0.10 that the consumer opts to pay for the biobag. The $0.10 from each bio bag sale goes into a fund to support the manufacture of the biobags and support the other steps in the re-cycle.
Task Three: The consumer does one of three things with the bag after the first use ideally:
Continue to use the bag until falls apart and puts bag out for collection and recycling.
Put the bag out for recycling at one several collection points in the city to be taken to a compost station.
Compost the bag at home.
Task Four: The homeless collect the bags and take them to the city compost station for points usable to buy a monthly bus pass, get food and shelter.
Task Five: The homeless compost the bags and distribute the compost to the public for points at the city recycle station.
Task Six: The homeless manufacture the bags from cornstarch.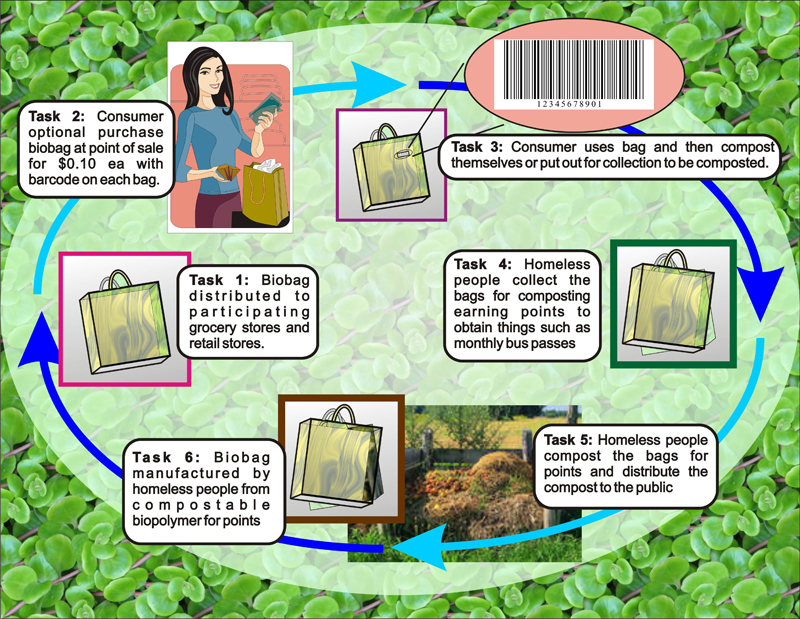 Research Applied to Make the Cornstarch Plastic Bag
If something is to be replaced in kind, the best pursue initially is to characterize the present product by understanding it features, manufacturing process and how it is used. The ubiquitous plastic bag used worldwide is the "t-shirt" plastic bag and was invented in 1965 by Sten Gustaf Thulin, a Swedish inventor who made the t-shirt bag from cellulose. Kroger grocery store chain was the first to offer the polyethyene t-shirt bag to its customers in 1982. Since that time the throw-away polyethylene plastic bag has become a standard in most grocery stores and grown in use to encompass the entire world. The bag has damaged the environment in totally unpredicted ways from their initial introduction. (News Staff 2008)
Table 1 shows data for a typical t-shirt bag made of different types of plastic.
Table 1 Common Bag - Called Grocer, T-Shirt Bag or Point of Sale Bag Recyclable and Degradable (Chafee et al 2007)
Recyclable Plastic
Degradable Plastic
Recyclable Paper
Size/type
1/6 BBL (Barrel)
1/6 BBL
1/6 BBL
Length (inches)
21.625
22.375
17
Width (inches)
12
11.5
12
Gusset (inches)
7.25
7.25
6.75
Volume (inches3)
1881.38
1865.52
1377
Volume (Gallons)
8.14
8.08
5.96
Gauge (Mil)
0.51
0.75
20 lb /1000 sq ft
Film Color
White
White
Kraft
Material
HDPE
(film grade blend)
Degradable Film Compound
(EcoFlex/PLA mix)
Unbleached Kraft
Paper
Jog Test (strokes)
45
20
n/a
Tensile Strength (lb)
50
35
n/a
Weight per 1000 bags in lbs
13.15 (5.78 kg)
34.71 (15.78 kg)
114 (51.82 kg)
The t-shirt plastic bag starts as a long blow formed tube of polyethylene being pulled upward while the internal diameter is stretched large by adding pressurized air. Eventually the bubble collapsed and the tube long polyethylene tube is brought down gusseted and cooled to the sealer/cutter. The seal heat seals the bag end through the entire bag and cuts it apart from the continuous roll tube. The cut bag is further die cut to form the handles and the top of the handles are also sealed in one sealing stroke.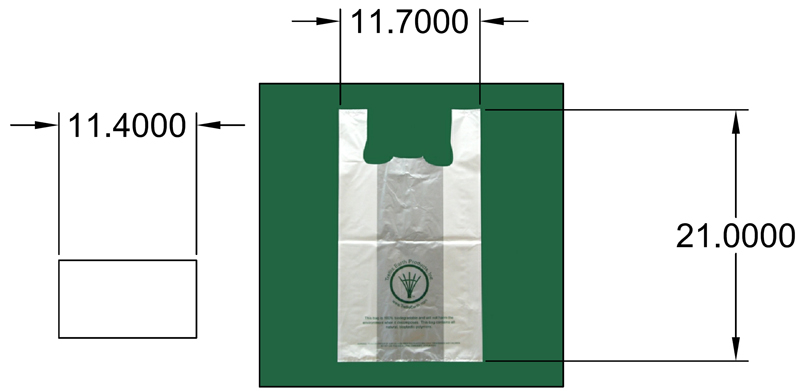 The specifications for the typical t-shirt bag are shown in Table 2.
Table 2 - T-shirt Bag Specifications
| | |
| --- | --- |
| Size | 11.5" x 6.5" x 21" width x gusset x height |
| Thickness | 0.65 mil (0.00065 inch or 0.01651mm) |
| Weight Capacity | 20 lbs (putative) |
| Material | High Density Polyethylene (HDPE) |
| Volume | 1072 cubic inches (0.62 cubic feet) |
Making a BioBagg The construction of the BioBagg requires only a few biodegradable ingredients and the typical kitchen equipment like spoons, rolling pins, pans and a flat table. The ingredients are: cornstarch, glycerin, citric acid, water and waxpaper. There are videos with procedures for extracting fibers/pulp from sage leaves/stems and a video showing how to make cornstarch plastic with sage pulp as shown:
Making of a Prototype
Sarah Kintner makes a prototype biodegradable plastic bag.
A video showing how to construct the cornstarch bag is under production now and will be out in a few weeks (around May 13, 2012). Stay tuned.
The BioBagg is composed of several layers as shown in Figure 3 below.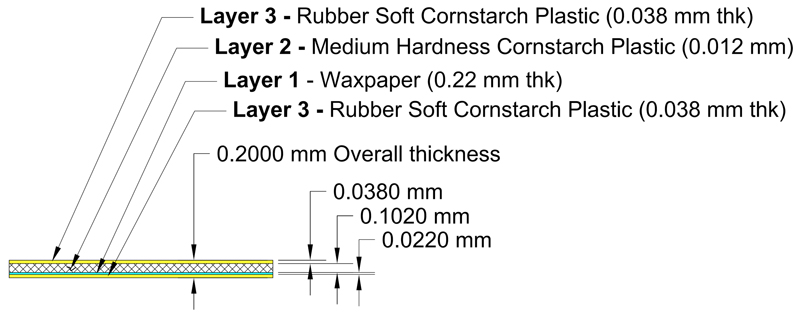 Figure 3 - BioBagg layer wall composition. The BioBagg starts with the medium hardness cornstarch (layers 1 & 2) and the waxpaper is laid overtop. This composite layer is dried together as one sheet and put in the oven (warm only) to "polymerize" the layers together. This sheet will be clear after the oven. The rubber soft cornstarch plastic is applied (Layer 3) to both side of a previously dried sheet and dried again. The new composite sheet layer is placed in the oven again. The sheet is now ready to be put together to make a bag.
A Step-Wise Walk Through the BioBagg Making Process
Ingredients for cornstarch plastic:
Cornstarch (1lb - $1.00 dollar store)
Glycerin - ~ $4.00 for 6 oz at Walmart
Citric Acid aka Sour Salt $1.00 dollar store
Water
Waxpaper
Cooking cornstarch plastic: Add recipe ingredient together in pan and mix before heating. Use a medium flame and continuously stir ingredients. Recipes are for (2) panels at a time. This shows sage fiber in plastic.
Pouring out cornstarch plastic: Make (2) panels for the front & back. Make (1) panel for the gussets. Pour out cornstarch plastic onto silicon rubber while hot. Spread cornstarch plastic around on rubber large enough for piece of wax paper 12" x 21"
Lay down waxpaper on plastic: Starting on the top of the plastic lay down the wax paper. Press the waxpaper on the plastic and spread with your hands by pushing the plastic under the waxpaper. Make sure the corners and edges are covered.
Dry Plastic and Peel Off Rubber: The cornstarch plastic is best dried with a fan for atleast 12 hrs to 24 hrs to make sure it is dry before peeling off the rubber. Peel off starting at one end and make the plastic pulls off in one piece. Put piece in oven on warm setting until clear. Watch the plastic as it can over cook quickly.
Making Gusset Panels from 1 sheet: Fold gusset panel in half and cut down the middle. Fold each gusset panel in half again. The gusset panel will overlap the front & back sheet by about 1/2 inch when glued.
Glueing the Gusset Panels: Lay the two folded gusset panel on top of the front sheet. Fold 1/2" of gusset overtop the front sheet and glue in place. Glue the other gusset in place the same. Make sure only the 1/2" folded over has glue. Remove any glue anywhere else.
Folding and gluing the bag bottom: First fold the bag bottom once and crease the edge. Then fold it again and crease the edge. Unfold the double folded bottom and glue both the inside and outside of bottom (except the bottom part on the bag outside). Refold and hold bottom in place. Put heavy books on bottom while drying.
Make the bag handles: Using a plastic t-shirt bag as a template trace the t-shirt top cutout onto the bag top and cut out. The cut should be into the crease of the gusset. Keep the cutout pieces to reinforce the cutout area. Certain areas will rip when weight is added to the bag. They should be reinforced.
Folding and gluing handles of bag: The t-shirt bag handles naturally turn in thus making it easy to get your hand in both handles. Turn in the handles on bag as shown on both front and back. Next flatten the handle tops as shown and over lap both handle evenly. Glue the handle in place.
Reinforce the handles: Wrap a 1" wide piece cut from the cutout around the outside of the overlapped glued area on the handle tops. This reinforces the glued portion so that the handle does not pull apart.
Dry the handle of the bag: Clamp the reinforced wrapped area of the handles with small clamps and position the handles so that they can be dried using fan as shown. The handles must be dried before using testing bag with weight to determine where to reinforce the cutout area.
Test the bag with weights (16 lbs tested so far OK) and reinforce the areas of the cutout that tear by gluing pieces of front and back sheet (1/2" x 1" or sized as needed) over the edge of the torn area. Since the bags are handmade, the exact location of the areas requiring reinforcement will vary by bag. Testing is the only way to find out where the reinforcement is required.
Definition of Compostable from the European Union Per the EU - Standard EN 13432 - Proof of compostability of plastic products "Scope of testing under EN 13432 Chemical test: Disclosure of all constituents, threshold values for heavy metals are to be adhered to. Biodegradability in watery medium (oxygen consumption and production of CO2): Proof must be made that at least 90% of the organic material is converted into CO2 within 6 months."
"Disintegration in compost: After 3 months' composting and subsequent sifting through a 2 mm sieve, no more than 10% residue may remain, as compared to the original mass." (EN 13432 2012)
Two Prototype Models of the BioBagg
Indian Sage Boxy BioBagg
The T-Shirt BioBagg
Recipes for The Cornstarch Plastic
CORNSTARCH PLASTIC (Layer 2)
RECIPE - Flexible Medium
8 Tablespoons Water (1/2 cup)
2 Teaspoons 20% Citric Acid Solution
2 Teaspoons Glycerol
3-1/2 Teaspoons Corn Starch
Add all ingredients together in pan with no heat until starch, glycerol, citric acid and water are mixed thoroughly.
Add heat to mixture and continue stirring until the mixture turns clear.
Pour the mixture on a piece of silicon rubber, lay a sheet of wax paper over top and roll it into a thin sheet.
Let the plastic cool. Let it dry overnight. Put a fan on the sheet. Peel the plastic off the silicon rubber.
Put in oven set on warm setting until transparent. (keep an eye on this as sheet can get brittle very fast.)
CORNSTARCH PLASTIC (Layer 3)
RECIPE - Rubber Soft
8 Tablespoons Water (1/2 cup)
1 Teaspoons 20% Citric Acid Solution
2 Teaspoons Glycerol
3 Teaspoons Corn Starch
Add all ingredients together in pan with no heat until starch, glycerol, citric acid and water are mixed thoroughly.
Add heat to mixture and continue stirring until the mixture turns clear.
Pour the mixture on a piece of silicon rubber, lay a sheet of wax paper over top and roll it into a thin sheet.
Let the plastic cool. Let dry overnight, put a fan on the sheet or put in an oven at a low temperature (125 F).
RECIPE - 20% Citric Acid Solution
2 Tablespoons Citric Acid Powder (Sour Salt in Dollar Store)
8 Tablespoons Water
In a jar add citric acid powder to water and shake until dissolved.
Research Not Applied for Reasons Described
A French professor has spent a great deal of time investigating the what a biodegradable bag can be made out of. Most of the materials and polymers had petroleum based plastics in them and required a large bioreactor to break them down. His information is readily available and free online at the following site:
www.biodeg.net
Book on biopolymers
Kudzu and switchgrass were investigated as possible sources for fibers to increase the carrying capacity of the BioBagg. Unfortunately these fibers are not readily available in New Mexico. It was found that waxpaper provided a suitable backbone for the BioBagg and it was used to make the BioBagg prototypes discussed in this report.
Future Work
A. Expand the program to other cities and areas particularly where homeless people would benefit from having an option to own a program for points to receive goods and services from their own efforts.
B. Leave enough information and direction for students and others to make their own bags.
Links to Website for Biopolymers and Composting
A. Green Plastics
- a good comprehensive site with practical recipes and very information videos on how to make biopolymers.
B. Bioplastic bag making by Embalys Colpak
- a great video showing how to make biopolymer with cornstarch.
C. Nature Works LLC
- website that shows all the different commercial bioplastics of one supplier
D. Biodegradable polymers
- comprehensive technical website showing that many "compostable" biopolymers are actually a problem if not put in a heated bioreactor with breakdown bacteria.
References
1. News Staff (2008) Polyethylene 'T-Shirt' Carrie Bag (1965), European Plastics News, accessed on 04-23-2012,
2. Chaffee, Chet and Yaros, Bernard R., "Final Report - Life Cycle Assessment for Three Types of Grocery Bags - Recyclable Plastic; Compostable, Biodegradable Plastic; and Recycled, Recyclable Paper" (2007) Prepared for the Progressive Bag Alliance, Boustead Consulting Associates Ltd.
3. EN 13432 European standard, (2012) BPI World Website, accessed 04-29-2012,

---
---