Class Projects
Terrill Yazzie, Rio Grande Project, 4/26/2012
Proposal help
http://www.staff.zu.edu.eg/khaled_agri2/userdownloads/4%20How%20to%20write%20a%20good%20Scientific%20Proposal%20-%20Bucharest.pdf
http://www2.hawaii.edu/~matt/proposal.html
Land usage for farming is usually maintained to feed cattle here in New Mexico. The water used to irrigate these fields comes from the Rio Grande. Currently the City of Albuquerque has implemented many water conserving laws and technologies that have help save water such as low flow toilets, xeroscapes, and smart watering-just to name a few. New Mexico's agricultural economy is dependent on dairy products and beef cattle. One area of water conservation that is overlooked and needs to be examined is the plants needed to feed the cattle, such as alfalfa. Alfalfa is a crop that is considered to use a large amount of water to sustain life Many studies have revealed that Alfalfa has an estimated evapotranspiration rate of ~6.5 feet (1900 mm) in desert regions (Hutmacher et al). This would estimate that 0.018 feet are needed daily to sustain the alfalfa plants metabolic activities. Evapotranspiration is the combination of evaporation and transpiration that fosters plant life (Pelman, 2012). In 2007, a government survey concluded that the average size of harvested cropland was 1,009,683 acres (Parker, 2012). If we convert the acres to feet, then there is about 4.3982E10 square feet in the harvested cropland. If we multiply the evapotranspiration we get the consumption volume of water needed to sustain the field of alfalfa, which is about 8 million cubic feet of Rio Grande water supply from surface or aquifer.
http://www.geoflow.com/agriculture/hutmacher.htm
Alfalfa
http://alfalfa.ucdavis.edu/+symposium/proceedings/2008/08-265.pdf
http://ddr.nal.usda.gov/bitstream/10113/2220/1/IND43936681.pdf
The most frequent reason cited for this trend is increased demand by an expanding dairy industry, other market demands, and lack of profitable alternative crops.
http://ag.arizona.edu/crop/counties/yuma/farmnotes/fn1101alfalfaprod.pdf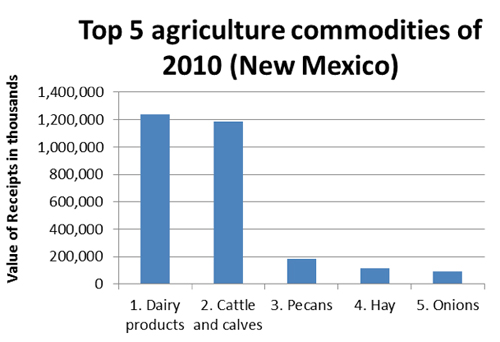 Data taken from: http://www.ers.usda.gov/statefacts/NM.HTM
| | | | |
| --- | --- | --- | --- |
| | 1997 | 2002 | 2007 |
| Harvested Cropland (acres) | 1,118,176 | 856,166 | 1,009,683 |
http://www.ers.usda.gov/statefacts/NM.HTM
Innovation in agriculture
http://ucanr.org/sites/fts/files/19713.pdf
http://www.dreamingnewmexico.org/food/ff-livestock
Feedlots by city and county
In Albuquerque (Bernalillo) there are 6-Arid lowlands
Carlsbad (Eddy) Arid lowlands
Deming (Luna) (1) arid lowland
Hillsboro Sierra (1) arid lowland
Jarales Valencia (1) arid lowland
La luz Otero (1) arid lowland
Mayhill otero (1) arid lowlands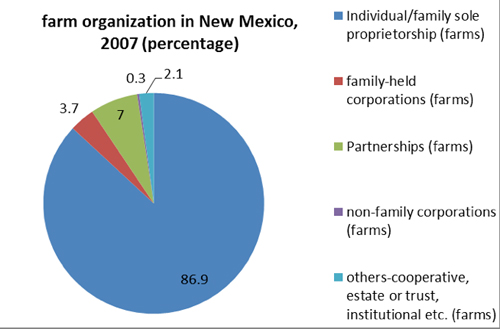 http://www.ers.usda.gov/statefacts/NM.HTM Data from website.
One technology used in fencing is the use of 12 foot creep gate which allows small that weigh about 700 lbs. access to higher quality foraging areas.
http://aces.nmsu.edu/pubs/_circulars/CR-586.pdf
The problem with arid soil in the southwest is the high salinity concentrations and remote areas are harder to maintain a safe level.
http://aces.nmsu.edu/pubs/_m/m-112.pdf
Nutrition cycle of cows: http://pubs.ext.vt.edu/400/400-012/400-012_pdf.pdf
Data from the American Angus Association indicated that a mature weight for beef cows is 1,200 pounds (Jaeger et al, 2004:14): http://extension.oregonstate.edu/catalog/pdf/em/em8827.pdf
The following website shows how much a cattle need to eat to be sustained and grow.
http://www1.agric.gov.ab.ca/$department/deptdocs.nsf/all/faq7811
Aquifer recharge
http://www.oas.org/dsd/publications/unit/oea59e/ch18.htm
Water quality in the Rio Grande Valley
http://pubs.usgs.gov/circ/circ1162/circ1162.pdf
Extra miscellaneous info
http://www.ers.usda.gov/publications/ah712/ah7124-6.pdf
http://www.nmpolitics.net/index/2012/04/issues-of-water-and-slaughter-go-hand-in-hand/
Plan A failed. Agriculture companies are private and there is no incentive to use less water.
Plan B: Alternative market crops that can be grown for bio diesel
Artichoke
http://repository.tamu.edu/bitstream/handle/1969.1/ETD-TAMU-3181/SHINOHARA-THESIS.pdf?sequence=1
Canola
http://www.ksre.ksu.edu/irrigate/OOW/P11/Hergert11.pdf
Castor
http://books.google.com/books?id=pm_IK9H-mnoC&pg=PA114&lpg=PA114&dq=evapotranspiration+of+flaxseed&source=bl&ots=UwJEcW2D6_&sig=T91qTQPXgAWoG_m0wKrVOt1fZ7A&hl=en&sa=X&ei=EdORT9qpOaOTiQLfirSZAw&ved=0CG8Q6AEwCA#v=onepage&q=evapotranspiration%20of%20flaxseed&f=false
Coconut/Palm
http://www.agroforestry.net/tti/Cocos-coconut.pdf
Corn
http://www.cprl.ars.usda.gov/pdfs/96et_corn.pdf
http://www.sciencedirect.com/science/article/pii/S0378377405002684
Cottonseed
http://www.sciencedirect.com/science/article/pii/S0378377405002684
Flaxseed
Hemp
http://www.internationalhempassociation.org/jiha/jiha5106.html
Jatropha
http://oar.icrisat.org/3870/
Jojoba
Karanj
Kukui nut
Milk Brush
Pencil bush
Mustard
http://orton.catie.ac.cr/cgi-bin/wxis.exe/?IsisScript=AGRINTT.xis&method=post&formato=2&cantidad=1&expresion=mfn=001400
Neem
Olive
http://www.soilzone.com/Library/Crops/Olives/Irrigation/Olive%20water%20use%20and%20yield%20-%20monitoring%20the%20relationship.pdf
Peanut
Radish
http://www.igsnrr.ac.cn/xwzx/jxlwtj/200607/P020090715579456610596.pdf
Rapeseed
Rice Bran
http://www.springerlink.com/content/l58r683535317n10/
Safflower
http://econpapers.repec.org/article/eeeagiwat/v_3a96_3ay_3a2009_3ai_3a12_3ap_3a1792-1798.htm
Sesame
http://www.academicjournals.org/jaerd/PDF/Pdf%202010/May/Ahmed%20and%20Mahmoud.pdf
Soybean
Sunflower
http://www.agmrc.org/media/cms/Sunflowers_C84E1143C31B9.pdf
Tung
http://www.bdpedia.com/biodiesel/plant_oils/plant_oils.html
Obtainable yield of soybean through evapotranspiration